The internet and mobile technology have given us instant access to nearly any kind of training and education that we could ever need. It's possible to complete nearly any certification course online, including food safety certification in MN. While it may be convenient and easily accessible, online training may not be an ideal substitute for a structured classroom setting.
Advantages to instructor lead food safety certification in MN
While there are pros and cons with both options, we feel that there are some key differences that make the classroom experience more complete when compared to an online course.
Instructors are available to answer questions
Discussions are planned to encourage student participation
Certification exams are usually scheduled on the same day as instruction
During online instruction, students are left on their own to find the answers to any questions they may have. This can take time and lengthen the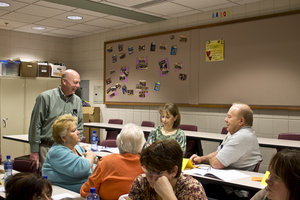 training process. In a classroom setting, there is a qualified instructor who is readily available to answer your questions quickly. You can be assured that your instructor's answers will be relevant to the test and applicable in your jurisdiction. The internet contains a wealth of information, but researching questions outside of the required material can turn up inaccuracies and answers that may not apply to the current food code.
Another advantage to taking an instructor lead course is that your certification test can be taken directly after your instruction and review session. If you choose to take your certification classes online, it will still be necessary to make an appointment to take your actual exam at a certified testing center at a later date. Taking the exam soon after you have completed the food safety course can ensure that all of the relevant information required to pass the test is still fresh in your mind.
Nothing beats human interaction. We understand that sometimes training can be dry and tedious. Rather than go through that training on your own in front of a computer, it can be refreshing to have an instructor who is easily able to infuse the material with personality. You'll also be able to associate with other members of the food community who may have questions or ideas that you have not considered. Completing a food safety course with other students can actually be a rewarding and motivating experience that you simply cannot get on your own.
Safe Food Training offers both instructor lead and on-line food safety certification courses. Our instructor lead courses are regularly scheduled at several central Minnesota locations. We would be happy to serve your needs, which ever option is best for you.