Christmas News for MN Certified Food Managers
Normally, we don't feel that it is necessary to cover food safety issues emerging out of Europe, but this story from the Netherlands that broke on December 6th may be too crucial of a warning to ignore. For those who do not know, December 6th is Saint Nicholas Day, and on this day the Netherlands receives their visit from jolly old Saint Nick. There is some speculation, but we are unclear if the Netherlands receives their visit early as some sort of practice run, or if Santa Claus has a special place in his heart for the children of the Netherlands and has decided to visit them on his way north from his rumored Madrid vacation home.
As it turns out, this December 6th one innocent young child decided to leave a nice warm glass of raw milk and a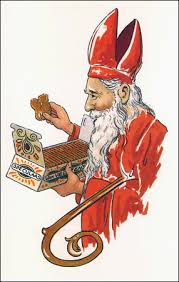 few unwrapped speculaas on the mantle for Santa. While the youngster meant well, what he didn't know what that years of poor diet had left good old Saint Nick susceptible to the bacteria that exists and multiplies in raw milk left at room temperature. He also unfortunately gave Santa a nasty head cold by handling those tasty spice cookies with bare, unwashed hands.
Thankfully, Mrs. Claus has recently forced Santa to take a fully trained and licensed doctor elf with him on his journey in case of emergency, along with a back-up pilot elf in case Santa was unable to operate the sleigh. Santa was able to leave presents in the shoes of the sleeping Dutch children, thanks to some help from his elves, and return home to recuperate from his symptoms. The good news is that it does appear that jolly old Saint Nick will be up and ready to go for his annual Christmas Eve flight next week.
Safe Food Training is always trying to find ways to make food handlers in MN aware of food safety and other hospitality industry issues.  Even when we risk alarming all of our 3-7 years old readers about Santa's frailties.
What we really want to do is take a moment to thank all of the MN certified food managers for their hard work this busy season, and for their diligence to keeping food safe for Santa and all others that they have served this holiday season and throughout the year! We sincerely hope you get a chance to relax and enjoy time with your family and friends during this holiday season and hope 2015 is a highlight of your life and career!
HAPPY HOLIDAYS FROM US TO YOU!