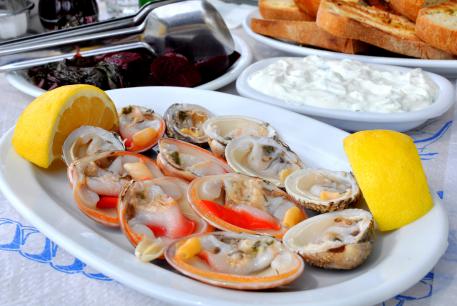 Last week we discussed the dangers of serving undercooked ground beef, even at customer request. This week, we'd like to take a look at a few issues that MN certified food managers need to be aware of when they choose to serve raw or undercooked seafood product.
Properly Handling Raw and Undercooked Seafood
Raw seafood can be an incredibly sensitive product and vigilance must be taken to keep it safe whether you plan on serving sushi or fully cooked fish and chips. If your facility prepares or serves any type of seafood product, it is important that you serve the freshest fish and shellfish possible. Once you have received your product, keep it out of the danger zone and as cold as possible. Even under refrigeration, we'd recommend storing your raw seafood product under ice.
If you plan on serving raw or raw-marinated seafood products such as sushi, ceviche, lox or seafood tartare, there are specific guidelines in the Minnesota food code that must be followed. With the exception of certain types of fresh tuna, any seafood you plan to serve uncooked must be frozen first in order to eliminate parasites. Common parasites in most seafood can be killed if your product is kept at a low enough temperature for an extended period of time. Before preparation, make sure that your product has been frozen at:
-4 degrees Fahrenheit for 7 days in your freezer
-31 degrees Fahrenheit for 15 hours in a blast chiller
While there is an exemption to the rule if you are serving raw or raw marinated tuna, we strongly suggest that you serve the freshest and coldest product possible.
As we discussed last week concerning burgers, you will have guests request their seafood served undercooked. Seafood needs to be cooked to 145 degrees and held at that temperature for 15 seconds. While you may still serve undercooked seafood at your customers' request, we strongly advise you to adhere to Minnesota food code when it comes to serving cooked seafood.
Finally, if you plan on serving raw seafood product, you must identify and inform your customers that your menu items are raw or undercooked. As with steaks and burgers, this can be easily done by placing an asterisk next to the menu item referring to a warning on the bottom of each page of your menu.